The story of Cinnamon Legends travels back to the time of Garumuni Peter De Silva, father of Nihal De Silva and father-in- law of Upuli De Silva who began an interest in cinnamon. Due to his strengths and confidence, G.P. De Silva pursued sourcing, buying and selling cinnamon in the local and international markets. Having continued since 1942, the company was able to position its stature as the world's leading Ceylon cinnamon exporter.
Cinnamon Legends is the result of the inspiration, motivation and harmony of Nihal and Upuli's efforts. While Nihal made the necessary standards for improvements to initiate ISO 9001 -2008 and ISO 22000, HACCP, GMP Organic EU. USDA and JAS. inspired by progressive ideas, it was late Upuli De Silva (2005 – 2020) who inspired Cinnamon Legends to create a line of value added products that has become a gift to the world as well as enhancing the company's value, esteem and position in the international market. Upuli's previous experience in her parents' export textile trade for the US market sparked her thirst for innovation. Observing from a side, Upuli realized that exporting the spice entirely in bulk form was a waste when the spice could shape shift into a thousand attractive possibilities. With her resourcefulness, she went ahead to craft an extensive range of exclusive, cinnamon-infused luxuries: personal care products, beverages, cocktail infusions, spice kissed chocolates and corporate gifts.
Cinnamon Legends embodies constant innovation throughout the years which has played a pivotal role in continuous product development from the base product of raw cinnamon to create a luxurious range of products. There is great commitment and dedication behind this creativity.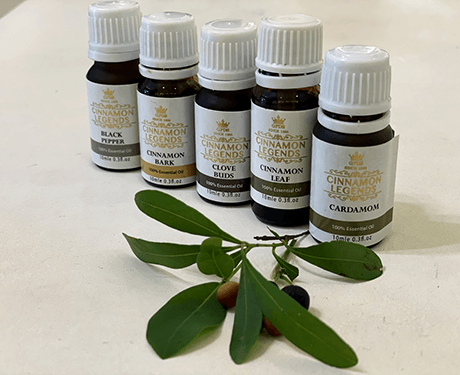 Now we have risen as a company engaged in certified organic farming, processing and packaging under the certification of ISO 9001-2015 and ISO 22000, HACCP, GMPOrganic USDA, EU and JAS.
Staying true to our innovative and enterprising vision, exporting our value added products to 10 countries worldwide within approximately two years, we have created a great blessing to our motherland with the creation of new jobs.
Through our unified innovative efforts, we want to gift to the world the luxurious art of living with the power of our pure Ceylon cinnamon. With the strength, pride and joy of our infused visions, we are ambitious to see Cinnamon Legends become a well-known brand in the world.